We do not like adversity. We question our own worth. Most of us wonder if there will ever be a time where we will have peace and happiness in our hearts and our lives. Since the fall of humanity, we have been plagued with pestilence, war, natural disasters, abuse, illness, pain, sorrow, injury, et al. In a world darken by sin, how do we manage an appropriate and Biblical worldview on affliction? It is quite essential for our success in a healthy and authentic Christian Life to understand the important role affliction plays, and the reality of truth the scripture speaks in relation to being afflicted. 
Illusion of Control and Fear
There are two main principles to convey and understand here. The first is that we may need to come to terms with the heart of fear. It is often quoted that we do not have anything to fear but fear itself (John F. Kennedy). What this means is that we fear our inability to overcome. Nothing more, nothing less.
The second principle coincides with our fear of our inability to overcome. In fact, it is probably humanity's greatest weakness and addiction. Our illusion of having control over our own lives.
Rami Shapiro writes:
"What does it mean to play God? It means living under the delusion that life is controllable. It means lying to [ourselves] all day, every day, insisting that, with enough effort, [we] can get life to do whatever it is [we] want to do." (Shapiro, Recovery, the Sacred Art, 2009).
From a more Biblical (and Christian) worldview, we come to realize that we do not have any control, and, we need only to fear God (in the sense of worship, praise, and being in awe of his divine Sovereignty).
What does the Bible say about affliction and our response to being afflicted? What is it that God teaches us about experiencing affliction in our own lives?
God sees our affliction and hears our cries of sorrow
In Exodus 3:7, we come to the encounter of the Most High with Moses. As we read, Moses comes to see a burning bush and is requested to take off his sandals. There, Moses engages in conversation with God.
And the Lord said, I h ave surely seen the affliction of my people which are in Egypt, and have heard their cry by reason of their taskmasters; for I know their sorrows.
Previous to this encounter, we read the nature of the sorrows and afflictions the Children of Israel were experiencing. In Exodus 1:8-14. We also read, that because of their affliction and their petitions to God (see Exodus 2:23-25) God remembered his covenant he made to the Children of Israel.
In the midst of our own trials, when we are feeling sorely vexed, we do cry out to God in our own sorrow, in our own affliction. Because He is sovereign and graceful, He bends to us and calls us to him. He hears our prayers.
2 Chronicles 20: 9 says that when evil befalls upon God's people, that we are to stand and cry unto God in our affliction. This is because we exert our faith in the reality that God will hear and help us in our time of need.
How do we stand in petition God in our own affliction? 2 Chronicles 33:12 relates that we are to be "humble" and to seek after God.
We are not immune to affliction in our lives
Probably one of the greatest myth's of the Christian faith is this false idea that once we become Christians, we will be immune to any form of affliction. It is not that we are instantly saved from anything that will bring sorrow in our lives. What we do know is that God will bring us out of those times we are being afflicted. Psalms says this:
Many are the afflictions of the Righteous: but the Lord delivereth him out of them all.
Again, we see that when we call to God (Psalm 88:9) He will bring us through whatever it is we are faced with. How does he do this? He comforts us in the midst of our sorrows, our mourning, our affliction (see Psalm 119:48-50). And it is not so much God himself that brings us comfort, it is His word (the Gospel, and the Scriptures) we meditate upon.
Affliction is the refining fire we walk through
What many of us fail to see is that the afflictions we face in our own lives are the very refining fire we inherently walk through. Isaiah 48:9 says this:
Behold, I have refined thee, but not with silver; I have chosen thee in the furnace of affliction. 
God calls us out of the most darkest parts of our lives. He meets us where we are most broken and in need of hope. This is the precious truth of the Gospel. It is not in our time of prosperity and doing well that he calls us (and we call unto him). It is during those times where every single ounce of hope has been extinguished and what we see as being impossible (or incapable) of overcoming, God speaks light, truth, and life into the heart of one that is dead.
Hosea 3:15 reiterates that we seek God in the furnace of our own affliction. We cry out to God in the "belly of [our own] hell" (See, Jonah 2:2).
Blessed are we because of affliction
Again, dispelling the false teaching that, if one is a Christian, therefore,we are not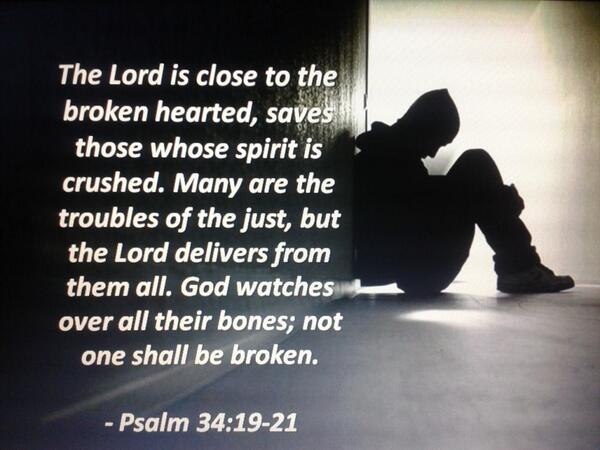 to experience any form of sorrow or affliction. Christ says, "blessed are they which are persecuted…" (Matthew 5:10). Following Christ evokes persecution and affliction. In Mark 4:17, we read that those who are not rooted in the truth of the Gospel of Christ become offended when they are afflicted.
We also know that scripture tells us that the last days will be filled with persecution and affliction (See, Mark 13:19). This is not just any form of affliction that has seen before. The passages reads that the affliction we will experience in these last days will be of such as had never before seen since the beginning of God's Creation.
Minister to those in affliction
The greatest ministry of the Church (outside of the preaching of Christ Crucified and Risen again) is to reach out to those who are afflicted. To provide service to the "fatherless and the widow" (See, James 1:27). To help those who are afflicted to pray (See, James 5:13). We are to preach the Gospel, even in the midst of our own afflictions.
If you are experiencing any form of affliction, take a moment to let the Spirit of God speak to your soul. Have you cried out to God? Have you come to embrace your affliction as a gift of refining you into a person God is calling you to be? Are you reaching out to minister to other people? These are soul-searching questions we need to be asking of ourselves.
Finally, Christ is our greatest example of enduring affliction. Not only did he endure the Cross, he endured the painful torture of Roman Flogging. He endured the most difficult prayer and decision "father if it be thy will, let this cup pass before me." Even Christ himself, the very Son of God, knew that his suffering, his afflictions were to serve a much greater and far better purpose than his need to survive. He lovingly submitted himself to the torture for our sake and our salvation.
No matter where you are at in life, God hears your cries, he knows your struggles, and He is graceful and merciful enough to meet you in the darkest hours.